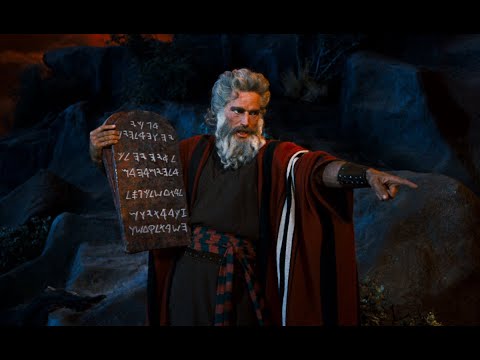 The Big Ten
I've been attending church almost all of my life. At the age of three, I started Sunday School, staying in classes until I went away to university at the age of 18. I became a substitute Sunday School teacher in my teens (it was a terrifying experience for a really shy person). Eventually, I became a full teacher in my twenties and, a few years before going into seminary, I was the Sunday School Superintendant. In my young years, Sunday School was at 10 a.m., followed by the church service at 11. Since my whole family (parents and grandfather) went to church every Sunday, my brothers and I sat through two hours of religion. I've heard of worse cases. I don't remember a single sermon, but I do have vivid memories of Sunday School. I had awesome teachers, every one of them. I was blessed enough to have some twice. And of course, in each of the individual classrooms (yes, this was back in the 60's when Sunday Schools has hundreds of children) there were always pictures of bible stories hanging on the walls. Looking back, I realized that they were strangely adult renditions of biblical stories. The lesson might've been on David fighting Goliath, but all I could ever remember was how buff and old David appeared in the pictures rather than the young and innocent version from the story. The lesson might have been focused on the importance of sacrifice, but the imagery of Abraham preparing to kill his son left most of us utterly terrified of God, rather than ready to learn to trust God. And Jonah and the whale – my girls won't swim in a natural body of water because of that one. The lesson might have been about Jesus and Mary Magdalene, but the story fell a little flat when our teacher kept calling Mary a "lady of the night" which made her sound more like a vampire than a prostitute.
But, if I'm honest, the thing that really drove me crazy about Sunday School was the fact that it felt so much like regular school. Our teachers took attendance, put us in assigned seats, gave out homework, and even proctored pop-quizzes. Now, don't get me wrong, there is an importance to the education that comes in Sunday School, but the way that it was done for me back then resulted in my desire to read the bible not for its knowledge, but for the promise of receiving a gold star, if, for instance, I was the first person who could turn to the book of Isaiah.
I could go on and on about the things I experienced in those Sunday School classrooms, but the one that stands out the most was the day we were quizzed on the Ten Commandments. At the time I knew they were a thing, but I certainly had no idea what they were. Up to that point in my life I could not remember ever hearing them preached about in church, I had no idea where they were in the bible, but I knew you could find them in framed cross-stitch patterns at older people's homes.
My sheet of paper remained blank for a long time. However, the teacher took pity on me and tried to help encourage some answers: "What are the ten things God wants us to do?" My mind raced through different sermons and scriptures; I tried to remember what the minister always said about God… I think God wants us to love Him/Her, I'm pretty sure we are supposed to do unto others as we would have them do unto us… What else? God calls us to lift up our crosses. Oh, and God wants us to give Him/Her our money!
Can you recite the Ten Commandments from memory? What do you imagine when you hear about the Ten Commandments? Do you think about how the law was established to protect and bind us together? Or do you just picture Charlton Heston from the movie version of the Ten Commandments?
Sadly, in our modern world we are more likely to hear about the Ten Commandments as they relate to controversies surrounding public displays than how they were written to help shape, guide, and mold our lives. Even as a child I was implicitly taught that it was more important to memorize God's Big Ten than it was to understand them, and live accordingly.
The beginning of the commandments sets up an individual address, but the concern is not just about our private lives and welfare. Most people outside the church, and many inside, think of the Ten Commandments as being about what we are NOT allowed to do. I've even heard them used to describe God as a God who doesn't want us to have any fun. But the actual focus and thrust of the list is on protecting the health of the community in which the individual plays a pivotal role.
God graciously provided these guidelines as a way to open up our lives rather than limit them. It might not appear that way at first, but upon closer inspection they describe the outer limits of conduct rather than focusing on countless specific behaviours for every situation. At the foundation of the Ten Commandments is God's desire for us to be protected from behaviours that have the potential to destroy. If we can begin to see and imagine the commands as opportunities for fruitful living and malleable for our time, then they will no longer remain the stagnant list from our Sunday School memories.
1. I am the Lord your God, and you shall have no other gods before me
2. You shall not create idols, nor shall you worship them
In our lives there are countless other gods fighting for our allegiances. From political parties to celebrities to businesses, it is next to impossible to be in the world without outside influences calling for us to worship them. When we find ourselves bowing to the powers in life, we neglect to honour the first two commandments. Honouring them encourages us to keep perspective about who is really in charge and the kinds of things that should be important in our lives. If we continue to worship what the media tells us, we will forget our call to love our enemies. If we spend more time catching up on all our favourite television programs, we will no longer catch up on what God is doing in our lives.
3. You shall not take the Lord's name in vain
This is less about using curse words than it is about not claiming that we are doing something in the "name of the Lord" when we are really doing it in the name of ourselves. Perhaps some of us give time to serve the poor and homeless, but if we do it to feel good about ourselves than we are technically taking the Lord's name in vain. This command pushes us to commend and praise God for all the blessing of our lives, particularly when we can bless others. As the Lord's Prayer that we repeat every week says, "For
Thine (God)
be the kingdom, the power and the
glory..."
4. Remember the Sabbath and keep it holy
This one is entirely for our benefit. Honouring the sabbath allows us to be our fullest. God rested on the sabbath, and we need rest in our lives. If we spend our days rushing through the familiar patterns of life, if we work without rest, then we will no longer be living. Or, as Ferris Bueller in the movie Ferris Beuller's Day Off puts it, "Life moves pretty fast. If you don't stop and look around once in a while, you could miss it."
5. Honour your mother and father
Having loving parents is a gift. More and more children grow up without the vitally important guidance of parents and have to learn to live according to the tests and trials that are thrown at them. Good parents, whether biological or situational, make the choice to love us in spite of us. They give and provide when we could not do so for ourselves. Loving our parents encourages us to be people of gratitude, instead of imagining that we are the source of all good things in our lives.
6. You shall not murder
This one seems pretty straight forward and I have to admit I haven't actually met anyone who has confessed to murder. We are mandated to protect the innocence of life. We are called to value every single life whether belonging to someone famous, or someone nearly invisible. It means loving and respecting those like us and those whom we consider to be very different from us. I want to put this thought into your head: Every time we say racist words, participate in racist actions or even think racist thoughts, are we not murdering the reputation, character and spirit of a person? Every life has value, and God wants us to cherish the beauty in all people.
7. You shall not commit adultery
Instead we should love and embrace our commitments. When we covenant to be in relationship with those whom we love, we are asking for God (and others) to hold us accountable to that promise. Fighting against the temptations of adultery results in us valuing the needs and wants of the other, more than ourselves.
8. You shall not steal
No one should have to steal to live in our world. Instead of stealing we are called to give with glad and generous hearts. Whether through the offering in church, or to any charitable organizations, when we give we help to prevent the need for people to steal to survive. God will provide, but very often God requires us to help with that.
9. You shall not bear false witness
Gossip and deception only serve to destroy a community. Just imagine how people might start loving and treating and trusting each other if they believed that no one would speak falsely about anyone else. Think about how beautiful a town and a church would be if people took this commandment seriously and worked hard for it to become manifest. When we begin to speak well of others at all times, we start seeing the world through God's perspective and not just our own.
10. You shall not covet
The opposite of this is to be grateful. It is too easy to look around at all the sources of blessings in other people's lives and begin desiring to take them for ourselves. How quickly can we begin to resent our coworkers when they are given a raise, how quickly can we begin to ignore our classmates when they receive a better grade, how quickly can we avoid our fellow church folk when everything starts going well in their lives as ours fall apart? God has given all of us gifts, large and small, seen and unseen. They are there and we only need a change in perspective to realize them in our midst. God will provide in ways that are miraculous and beautiful. We need not covet what our neighbours have when we remember that God has chosen to be with
all
of us.
Jesus, when asked what the greatest commandment was, said that to love the Lord your God with all your heart, soul, mind and strength was the greatest, and that the second greatest was to love your neighbour as yourself. Those two commandments are a summary of the Big Ten; the first three of which dictate how we are to relate to God and the rest are all about how we relate to others.