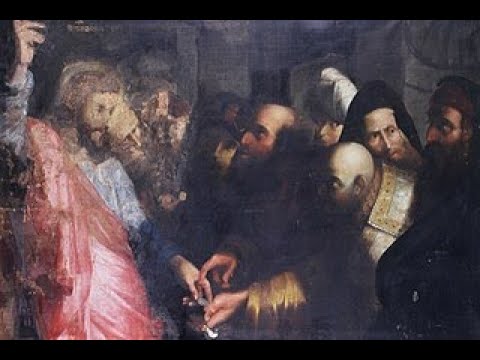 Give to God what is God's
Matthew 22:15-22
I was once told of a person who makes such a point of saying thank you, that every time he writes a cheque to someone, he writes on the bottom of the cheque "Thank you very much!" He began the practice some years ago and continues to this day. I suppose that he wants to become a more thankful person, and this is part of his discipline toward achieving that. Perhaps he once heard a sermon about cultivating an attitude of gratitude. He also realized that we do not often let other people know how grateful we are for what we receive from them. This is one way he tries to let them know.
When he pays the monthly utility bill, he pauses for a moment before doing so to reflect on the many benefits he has enjoyed from the electricity he has received – the convenience of electric lights, the power that runs the furnace, the coffee maker, microwave, vacuum, television. Then he makes out the cheque for the proper amount of the bill and in the space on the bottom of the cheque for indicating its purpose, he writes, "Thank you very much for the electricity!" When he pays the telephone bill he notes on the cheque, "Thank you for the phone service!" When he settles up with the credit card company, he does the same thing and so on. To each their due.
Then each year comes April 30. Time to pay taxes. One would think that the obligation of having to pay taxes might lead in quite a different direction. But not so. Once more the man calculates how much his tax bill will be and pauses to reflect on the benefits he has received by living in this country – the freedoms not enjoyed in other lands, the relative personal security, the social benefits. Then he picks up his pen, fills in the proper amount on the cheque, makes it out to Receiver General for Canada and in the space on the bottom of the cheque puts in his social security number and then adds a note – "Thank you very much!" I suspect that the people at Revenue Canada who open these cheques do not see many notes like that.
Imagine: it is possible to pay one's taxes not grudgingly but with an attitude of thankfulness. At least it is for some people, some time.
In today's gospel the question that is asked of Jesus is not whether taxes should be paid gratefully or grudgingly. Rather the question put to Jesus is whether, in his opinion, it is right and proper to pay taxes at all.
The political situation in Jesus' time was quite different than it is for us. The land was under military occupation. A foreign power extracted taxes from the citizens. One might compare it roughly to living years ago in Nazi-occupied France and being forced to pay taxes to Germany's government. Or to living under apartheid in South Africa and being forced to support an all-white, racist regime. If you were living in circumstances like these, would it be right and proper for you to pay these taxes or not? This is the issue that faced Jesus and his contemporaries.
Jesus recognized that the question he was asked was a trick. Just like the question some years ago of whether Dr. Henry Morgentaler should receive the Order of Canada or not, the question is divisive and has no universally popular answer. The question about taxes was intended to get Jesus into trouble with one group or another.
In any situation of foreign oppression, one has two primary options: to cooperate or to resist. Jesus was asked the kind of question that has a "damned if you do, damned if you don't" answer. If he answered "Sure pay the tax. Caesar is powerful and in charge of everything. Pay the tax," then Jesus is in big trouble because he has thereby supported the pagan, gentile, Roman occupation forces. He is acting as if Caesar has God-given authority, which would be impossible for Jesus or the Jewish people to accept. On the other hand, Jesus could have answered, "We're Jews! Don't pay the tax. That money has Tiberius Caesar's idolatrous image on it. Payment of the tax makes you an idolater." But this answer meant the Romans would be arresting Jesus for insurrection.
What is Jesus answer? He responds to a question that has no "right" or popular/acceptable answer by saying that people were to give to Caesar what is Caesar's AND give to God what is God's. And that's where this piece of scripture is significant, not just for Roman occupied Israel 2,000 years ago, but for us today. Jesus' teaching in today's gospel goes beyond any quandary we might have about paying taxes. It goes beyond any question about taxes, or military service, or any other obligation that may be required by the government.
If Jesus had just let it go at "Give to the emperor the things that are the emperor's" then we might be able to hold back. While not always easy – especially when April 30 rolls around – we might at least fulfill this part of what Jesus demands. But Jesus went on to give a much further reaching commandment: "Give to God the things that belong to God."
In Psalm 24:1 it says, "The earth and everything on it belong to the Lord. The world and its people belong to Him (God)". That statement is a clear declaration of ownership and divine ownership is a consistent theme throughout scripture. The earth is the Lord's. God creates and owns all of it. Whatever we have, including life itself, is on loan. The Christian life is one long process of learning that we don't "have" anything of any value and that anytime we use the word "mine" we are on shaky ground. Life (Genesis 2:26 says we are created in the image of God), time, possessions, family, nature, pension funds, country, friends – all held in trust by us, all on loan from God to us. God graciously gives, but God does not let go of what God owns.
Give to God what is God's places everything we have and everything we are in the context of our relationship with God.
Jesus takes what sounded like a political question – should we be paying taxes? – and turns it into a liturgical, worship question. In whose image are you stamped? Who is the object of your highest devotion? Who owns you?
John Calvin famously said that the human mind is a permanent factory of idols. We so want to find some means, other than God, of security, protection and comfort. And so we devise our own idols. For some it's money, possessions, retirement security, position, a sense of importance, alcohol or drugs, our home, family, friends, prestige, education, church, even tasks we do for the church. They can all become idols and idols are something or someone that becomes more important to us than God in our life.
In the early centuries of the church's missionary activity in what is now Germany, entire tribes of warlike peoples were converted to Christian faith. In those days groups of people were sometimes baptized en masse by immersion in a body of water. But when some of the warriors were baptized, they held their right arms over their heads so that the hand in which they wielded their battle axes would not be baptized. They still wanted to be free to use these hands as they wished. They did not want to subject their whole self to the covenant they were entering with God.
What may we be reluctant to place in the context of our covenant with God? Our wallet, our career, a relationship, our weekend, our work? But God's claim on us through our profession of the Christian faith is total. No part of our life is excluded from our fundamental covenant with the One who is our creator and redeemer, in whose image we are made.
Yes, it would be much easier if Jesus, when he was asked a question about taxes, had just let it go with "Give to the emperor the things that belong to the emperor." But Jesus did not stop there. He knew that whenever we discuss anything of great significance, deep down, it's a question of worship, sometimes even idolatry. Here we are with a coin with Caesar's idolatrous image on it, asking what we thought was a political strategy question, and Jesus makes it a question of worship.
The very first of the Ten Commandments is "You shall have no other gods before Me." The book of Exodus tells us that while Moses was receiving the Ten Commandments from God, his brother Aaron was busy making a golden calf for the people to worship. "This is our god!" the people cried as they bowed before the idol.