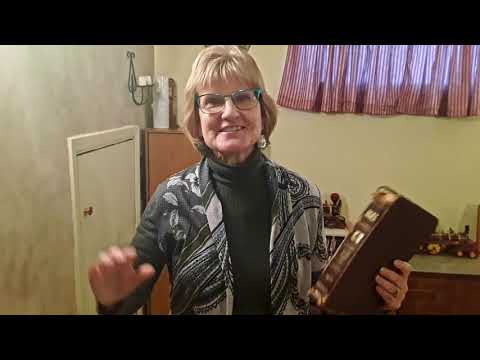 Sainthood
Luke 20:45-47

We are born into the river of life on whose current we are carried through this life into the next. The journey may be long – seven, eight, nine, even ten decades - or it may be short, a journey that seems to end before it begins in the case of still birth.

The era into which we are born, the location, the status; these are the givens of life and are not of our choosing. But in living, we do have choices and the choices we make have an effect on life's outcome. They determine what our life will be as well as determining our attitudes toward this life. And our choices will influence those who lives come after us.
In the 1930's a young traveler was exploring the French Alps. He came upon a vast stretch of barren land. It was desolate. It was forbidding. It was ugly. It was the kind of place you hurry away from. Then suddenly the young traveler stopped dead in his tracks. In the middle of this vast wasteland was a bent-over old man. On his back was a sack of acorns. In his hand was a four foot length of iron pipe. The man was using the iron pipe to punch holes in the ground. Then from his sack he would take an acorn and put it in the hole. Later the old man told the traveler, "I've planted over 100,000 acorns. Perhaps only a tenth of them will grow." The old man's wife and son had died, and this was how he chose to spend his final years. "I want to do something useful," he said.

Twenty-five years later, the now not-so young traveler returned to that same desolate area. What he saw amazed him. He could not believe his eyes. The land was covered with a beautiful oak forest, two miles wide and five miles long. Birds were singing, animals were scurrying and wild flowers perfumed the air. The traveler stood there recalling the desolation where now stood a beautiful oak forest - all because someone cared.

Our lives are like that acorn planter and forest. We too face a world that can be desolate but which, with our influence and with the lives we share with one another, can blossom into a world of caring, beauty, wisdom and truth. It is what we plant in the lives of others that changes the world we live in. We know it to be true because we know how our world has been changed by what was planted in our lives.

October 31, what we call Halloween, was originally called Hallow's Eve. The following day, November 1 was known as All Saint's Day. The word "hallow" means to revere, to honour, so Hallow's Eve was the night before the day when those who were considered saints were to be honoured.

So what is a saint? If you walk into a Roman Catholic church you will likely see paintings, statues and stained glass of people from the ancient past representing those who have been considered saints throughout history. Each of Jesus' disciples, the apostle Paul, many of the early church fathers who helped form the basis of Christian theology and understanding. Of course, the Catholic church, has canonized (that is, recognized) people in more contemporary times as saints. In 2014 Mother Teresa was declared to be a saint. Usually sainthood is bestowed officially by the church based on the life lived, the tremendously good deeds done and the miracles ascribed to the person being honoured by sainthood.

We're not so much into recognizing saints in the Protestant denominations, of which the United Church is part. But I believe most of us have our own saints regardless.

If we were worshipping together in person today, I would ask you to share with me who you consider the saints in your life to be. Since we aren't, I will share some of mine with you. None of these persons were famous. None were perfect. Most, if not all, were not really even known outside of their families and communities. But to me, they all displayed some aspect that I honour and respect.

My first was my grade 1/2 teacher, Mrs. McGinn. I didn't know she had a first name – most little children think their teachers first names are Mr. or Mrs. Mrs. McGinn took an obsessively shy student and gave her her first experience of self-confidence. Could I speak in front of you today without her help? Someone else might have come along and accomplish what she did, but to me she is a saint for drawing out the potential of so many students.

Secondly, I had a number of Sunday School teachers who established my first footings into the life of faith and who nurtured and challenged and encouraged it to grow. Each one is a saint in my eyes, though most are no longer on this earth.

I also had parents and grandparents who loved me. My mother would be shocked, I think, if I had told her she was a saint to me, but one story in particular stands in my memory as a young student. I had a school teacher who had a reputation of being tough. Students were actually afraid of him. Now let me explain. This teacher was not mean or cruel or overly-demanding, but he made sure on our first day of class with him, that he knew the name of every trouble-maker coming into his classroom. And he made sure that they all knew he had his eye on them. One day he gave us an assignment that I couldn't quite understand. I was far too afraid to ask him to explain it further. I came home in tears to my parents saying that I didn't know what to do. My mother phoned the teacher and got an explanation that I could understand. To me, she was a saint that day. And when I reflect on that particular teacher today, I would have to say he was also a saint. He came across harshly, not because he didn't like the students, but because he cared so much he didn't want to see anyone throw their life away. God bless the saints in our lives.

When we think about our own saints, their lives have been important to us because they have planted in us the things that have shaped us, and often left us with some wonderful memories. We can remember the fun and the laughter, the tears and the hardships, the helpful things you learned about life from them and the hard lessons they taught you. We remember both the good and the bad - for in life there is always both.

As Christians, the lens through which we see life is coloured by our faith. By choosing to join ourselves with Christ, we received a wonderful promise - new life in Christ. A life of faith, whether we are aware of it or not, is lived on two planes. Do any of you remember as a child, floating sticks or leaves down streams? Eventually those sticks and leaves accumulate elsewhere, perhaps out of sight. In the river of life that is our journey, everything we put into our life produces not only an effect in our lives and those around us today, but follows the flow of the current and accumulates towards our lives in the hereafter.

There is a modern day parable about a woman who was accustomed to living a life filled with every luxury and who was accustomed to every kind of respect. She died. She arrived in heaven and an angel was sent to conduct her to her new house there. They passed many a lovely mansion and the woman thought that each one, as they came to it, must be the one allotted to her. When they had passed through the main streets, they came to the outskirts where the houses were much smaller and on the very fringe of heaven, they came to a house that was little more than a shack. "This is your house," said the conducting angel. "What!" said the woman. "That! I can't live in that!" "I am sorry," said the angel, "but that is all we could build for you with the materials you sent up."

Jesus had no respect for the religious leaders of his day who tried to make themselves seem more important than others. He criticized them for seeking out the place of honour at banquets, for insisting on being called by titles, for demanding to be served rather than to serve, for admonishing people to live one way while they displayed a complete lack of following their own directives. And unfortunately, it can still happen that way today. One of the questions that truly irks me is when someone says "Do you know who I am?" in a particular tone of voice that seems to indicate that the person to whom they are speaking in somehow less worthy.

But God doesn't differentiate. God does not rate us on a scale of worthiness. God only sees a beloved child who needs comfort, guidance, challenge at times, patience, understanding, correction. And all because we are children of the Divine Spirit. We all have the capacity to be saints in this world and to one another. It doesn't mean we are perfect. But it does mean we truly try to follow in Christ's footsteps to love our neighbour – whoever they are, whereever they are and in whatever condition they are found. God knows the human race too well to believe that we have it all figured out. And God has the patience to help us to be saints long before we have our lives in order.

So here's to all of you saints out there. May God bless you and keep you. And may God help you to turn others into saints by your example.
I want to leave you with this prayer for a saint I read recently. You've probably already heard it yourself.

"So far today, God, I've done all right. I haven't gossiped, I haven't lost my temper. Haven't been grumpy, nasty or selfish. I'm really glad of that.
But in a few minutes, God, I'm going to get out of bed; and from then on, I'm probably going to need a lot of help.