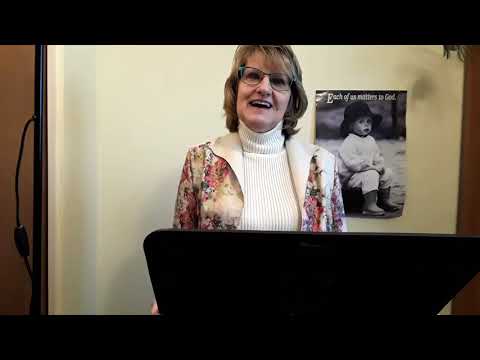 Living with resolve
Mark 1:4-11
How many of your New Year's Resolutions have made it intact through the first full week of 2021? Have you missed a day of exercise yet? Have you stuck to your diet? Are you texting less, communicating more, never gossiping, always telling the truth? Most "resolutions" we make are self-directed: things like get thinner, work smarter, be stronger, take control of your life. We want to make changes that will help us, improve us and bring us good feelings about ourselves.

What if instead of trying to live resolutions that make us feel good about ourselves we actually resolve to live in a way that makes God feel good about us? What if we resolve to live a life that brings pleasure to God?

First of all, we are none of us Jesus, so we will make mistakes. But that doesn't mean we can't try, with God's help, to live with resolve in 2021, that kind of resolve that means in January of 2022, God can look back at our year of living and declare "Your life brings Me great pleasure. Well done good and faithful friend." Remember how as a little child you lived and loved to get the approval of your parents? Piano recitals, school plays, science projects, Christmas pageants – all were at the same time fearful and fun. But for you to feel like you'd really accomplished something, it took a parent or a grandparent or that someone special, watching and cheering and applauding and effusing "great job", "well done", "bravo", "I'm so proud and pleased." Or even just an "I love you." If the praise of our imperfect human family could bring such a sense of satisfaction to our childish hearts, think how much more the affirmation of our perfect, all-powerful, heavenly Parent would mean to our life.

If you fail in your New Year's Resolutions what are the consequences? You lose five pounds instead of twenty. You still sneak a cigarette. You take the elevator instead of the stairs. Your closets aren't as cleaned out as you would like and you still don't get your taxes done till midnight April 30.

It's easy to appease yourself for these failures. At least you lost five pounds. There is probably lots of good stuff in your closet that you may want later. You don't want to give the government its due until the last minute anyway.

But what happens if the life you lead in 2021 fails to live up to God's expectations? If we lose courage, lose our faith, lose our way, these are the worst words anyone could ever imagine hearing: (Hebrews 10: 38-39) "My soul takes no pleasure in anyone who shrinks back. But we are not among those who shrink back and so are lost, but among those who have faith and are saved."

As wonderful as it would be to hear God say one day, "I've tracked your life and ministry. You bring me great pleasure" so devastating if would be to hear God say, "I've tracked your life and ministry. I take no pleasure in you." Of course the paradox of our saint/sinner status is that all of us fall short of pleasing God, but God's grace covers our failures.

Jesus took off from Galilee to the wilderness around Perea to find his shirt-tail relative, a seemingly odd man baptizing people in the chilly Jordan river. For John's mission, baptism was a symbolic gesture of repentance and the baptized person's welcome into a new life of radical obedience to God. Jesus had no sins to repent of, no need of John's baptism. Yet baptism was the first step Jesus took to embark on His ministry.

Do you sense how appalled John was by Jesus' request? John the Baptizer balked and backpedaled. He recognized the One who stood before him as the very person he had promised and proclaimed. John knew Jesus needed no water baptism of repentance. John knew he himself needed the baptism of the Spirit that Jesus' ministry would provide.

But both John and Jesus lived their lives according to God's directions, not their own. Both of them sought to do one thing above all else: please God.

Jesus assured John that it was the right thing to do. John should baptize Jesus because that was providentially designed. John's baptism of Jesus wasn't a symbol of his superiority to Jesus. Jesus assured John that a baptism that was of repentance for everyone else did not brand Jesus a sinner. God wanted Jesus to come to John to connect the dots between the Proclaimer and the Proclaimed, to capstone John's mission and to commence Jesus' ministry.

Jesus' baptism was the beginning of His mission, His ministry. Our baptism, whether as infants or adults, is also about beginnings. Parents who choose to have their children baptized are making a statement in front of a congregation, that with God's help and the congregation's help they will begin to raise their child in a Christian environment. Baptism for a child is often the beginning of their Christian faith and training. Baptism as an adult, is the symbol of that person's new beginning – a proclamation that they chose to live a Christian life, once again with God's help and ours. Therefore, baptism whether of a child or an adult, is actually a resolution to begin a life that is pleasing to God. The reason that the congregation participates in a baptism with it's own promises is that we all need to be reminded occasionally of that resolution in our own lives.

When it comes to resolutions, how do we resolve to live 2021 in a way that is pleasing to God?

Max Lucado suggests a number of New Year's Resolutions in his book In the Eye of the Storm that would go a long way to pleasing God. Hopefully you will find some there that you can adopt as your own.

The first thing to do is to resolve to please God. A lot of us are in the people pleasing business rather than the God-pleasing business. But we weren't created to please people. We are given this gift of life to please God. Every time we are faced with a situation the question we need to ask ourselves is "What would Jesus do?" (I know it sounds like a bumper sticker or a book title, but it's amazing how your actions and words will change based on the answer). And when you come to the answer to that question, that's what our actions should be reflecting. To please God we need to think and act as much like Jesus as we can.

Some people are naturally kind. They never say anything bad about a situation or a person. They are never judgmental, never harsh, never hurtful. They are always positive to, and about, others. Most of us, however, are not like that all the time. My personal New Year's Resolution this year, in light of this, is only four words long: Kind words, kind actions. I am failing too often. But, I am not failing as often as I have in the past, because I know God is helping me with this one. My prayer every night sounds like "God, help me to please You." I can't do it without God's help.

But pleasing God is much more than just doing the right things. Pleasing God means we have to show people what God is like. A man relates that when he was a little boy, he was forever coming home late from school, which meant he was late for dinner every day. His parents finally got fed up and said, "Look, next time you come late for dinner, you will get bread and water. That's it!"

Sure enough, the next day the boy came home late from school. He walked into the house and there were his mother and father, with plates of meat and potatoes and vegetables set in front of them. In front of the boy's place, however, were a plate with a slice of plain bread on it and a glass of water. When the boy ate it, he was of course still hungry.

The boy was crushed. His father waited for the full weight of the lesson to sink in, then silently took his own full plate and put it in front of his son. He took his son's empty plate and put it in front of himself. Through the rest of his life the boy, now turned man, remembered this thought: "All my life I have known what God is like by what my father did that night."

When we are sitting in church one year from now, will we know that God has looked back over the twelve months of 2021 and says to us "Your life brings Me great pleasure. In you I am well pleased."?