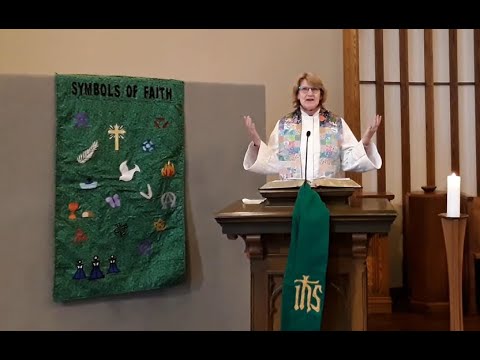 (Im)perfect place names
John 1:43-51
According to a recent report from the BBC News, inhabitants of a village in northern Nigeria are celebrating the renaming of their village. The old name of the town was "Area of Idiots." Wonder why they wanted to change it? "Area of Idiots." The new name of the village is "Area of Plenty." I believe you will agree with me that's an improvement.
The local emir announced the name change after residents complained that they had been mocked for years because of that name and were ashamed to tell people where they came from. "It was shameful telling people outside I come from 'Area of Idiots,'" said one resident.
The village, in Kano state in Nigeria, gained its initial name about 70 years ago when people settled close to a river known as the Idiotic River. It is not clear why the river has that name. The predicament of that village caused me to research some unfortunate names of towns here in Canada. What if you and I lived in Stoner, BC? Or Forget, SK? Or Nameless Cove, NFLD? Or St. Louis de Ha! Ha!, PC? Or Head Smashed in Buffalo Jump, AB?
Of course there are a lot of towns called some very rude names, but I won't mention those here. You can google them yourself. Clearly some people who name places are not perfect.
That brings us to our scripture for today. I know some of you are thinking, "How could that possibly tie into to any scripture?" Well, stay awake.
In our lesson for today, a man named Philip has just encountered Jesus and has been won over to him. He, in turn, reaches out to a friend, Nathanael, and tells him, "We have found the one Moses wrote about in the Law, and about whom the prophets also wrote—Jesus of Nazareth, the son of Joseph."
"Nazareth!" Nathanael exclaims. "Can anything good come from there?"
Obviously, Nathanael wasn't very impressed with Nazareth. While it doesn't have a unique name like Head Smashed in Buffalo Jump, there was obviously nothing impressive about Nazareth. And yet, Nazareth was chosen by God as the village where God's own Son would spend his childhood and youth. It's so like God, isn't it, to take an unimpressive village and unimpressive people and do extraordinary things through them?
In the beginning of Jesus' public ministry, he taught in synagogues all around the countryside. News went from place to place and people surrounded him wherever he went to hear him speak. The bible says that everyone praised him. Clearly they thought highly of his message and ministry.
Then he preaches for the first time in his hometown, Nazareth. "The Spirit of the Lord is on me, because God has anointed me to proclaim good news to the poor. God has sent me to proclaim freedom for the prisoners and recovery of sight for the blind, to set the oppressed free, to proclaim the year of the Lord's favour." And then the fight breaks out and Jesus is escorted out of the synagogue and nearly thrown over a cliff. You can read about it in Luke chapter 4. Apparently his words to his hometown weren't as gentle as they had been to others.
Now there are probably a lot of churches that have been tempted to throw their minister off a cliff, but fortunately I've never heard of it actually happening. And, fortunately, it didn't happen here. Luke tells us, "But he walked right through the crowd and went on his way."
Luke didn't include details to explain why this confrontation occurred, but it's hard to feel sorry for Nazareth. There were obviously some hotheads there. Throwing a person off of a cliff over an unpopular sermon is a little extreme. Still, there must have been some positive things about Nazareth that caused Mary and Joseph to make their home there.
The late author Tom Wolfe is famous for his observation, "You can't go home" by which he meant you can't truly go back to a place you once lived because so much will have changed since you left that it is not the same place anymore. Undoubtedly that's true, but some of us may have no desire to go back home to some of the places we have lived for unspecified reasons. Maybe we never really felt accepted or appreciated.
Even Jesus didn't please everyone. If you think you can sail through life with no one criticizing you, no opposition, no one making catty remarks about you, you are going to have a disappointing life.
There is a very sad story about an aspiring dancer whose sole dream was to dance on Broadway. She practiced for hours upon hours, hoping that someday she would grace the stage. One day, though, some of her friends got together and discouraged her so badly about her dancing that not only did she give up dancing, but she also decided to commit suicide.
She went to the Golden Gate Bridge. Before she jumped off, she wrote a suicide note that began with the words, "They said . . ." After writing the note, she jumped to her death. When the police got there all they found was a note that read, "They said . . ."
The morning headline for the San Francisco Chronicle read "Young aspiring dancer jumps to her death; cause unknown, but something they said made her do it." "They said . . ." Possibly her friends thought they were doing her a favour by discouraging her dream. Perhaps in their estimation, she would never make the grade. She might as well give up before she wasted any more of her life. Maybe their words were meant as a kind of intervention.
But who knows? Maybe she would have had a very satisfying life living in a small New York City apartment and picking up a part in a minor production every once in a while. Be very careful when you step on somebody else's dream.
"They said . . ." Even Jesus had his critics. Do you think everyone in town agreed with him when he said to turn the other cheek? Do you think that people liked it when he used Samaritans—the very people his neighbours despised most—as heroes in some of his teachings? Do you think that racial and religious bigotry are a new phenomenon? And his teachings on wealth? Do you think the upper middle-class people liked hearing that the rich ended up in Hades and the poor beggar Lazarus ended up in heaven? After all, the only goal that some of his neighbours had was to climb the social and economic ladder.
But Jesus stayed true to his values—even when people got upset. Even when they threatened to throw him off a cliff. Even when they threatened to nail him to a tree. Now you expect that of Jesus, don't you? You expect him to stay true to his values. Do you expect it out of yourself?
There is classic story told of a church that was seeking to hire a new minister. In this church's particular denomination a search committee would visit several churches to listen to prospective ministers preach, and then invite the minister that best met their needs to come and preach for the whole congregation. After the congregation met with him or her, they would vote on whether or not to hire the person that the search committee has selected.
This particular church invited a minister so chosen to come preach for them. Afterward they voted and informed the minister he was hired. Later, one of the elders said to the new minister the vote was "almost unanimous." This alarmed the pastor, so he asked, "What was the vote?" The elder said the vote was 230 yes and 2 votes no.
Well, this so disturbed the new minister that he spent the first six months trying to find out who the two no votes were. When he found out who the two were, he spent the next six months trying to please those two people. At the end of the year the church voted again and fired the minister. This time the vote was 230 to fire him and 2 votes to keep him. You want to guess who voted to keep him? That's right—the two people he sought so hard to please—which highly displeased the rest of the congregation.
The minister wasn't called to make those 2 people happy. He was called to minister to everyone in that entire congregation. He needed to stay true to his values and treat the two dissenters like he treated everyone else.
Jesus stayed true to his values. He was sent by God to demonstrate a new way of living which he termed the Kingdom of God. His goal was to plant that kingdom in every heart. And he never wandered from that path.
Philip found Nathanael and told him, "We have found the one Moses wrote about in the Law, and about whom the prophets also wrote—Jesus of Nazareth, the son of Joseph." "Nazareth! Can anything good come from there?" Nathanael asked. "Come and see," said Philip.
When Jesus saw Nathanael approaching, he said of him, "Here truly is an Israelite in whom there is no deceit." That's interesting, don't you think? Jesus realizes that Nathanael is a person who is also true to his values. He's a quality young man. Jesus always appreciates people of character, people of integrity.