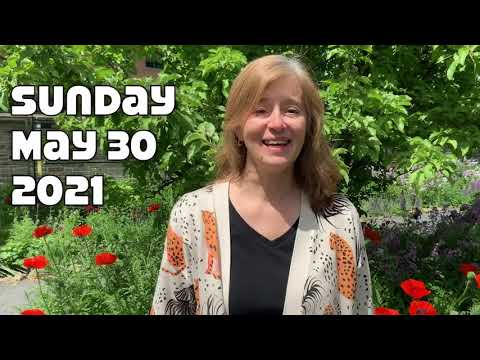 Matthew 20:20-28
Serving God
For three weeks running, Elvis Presley's greatest hits album was number one in North America 25 years after he had died! In spite of enormous success Elvis was, according to friends, an unfulfilled and unhappy man. He died of complications from obesity and drug dependency at the age of 42. In an interview with his ex-wife Priscilla, she said that "Elvis felt like he was here to do something: to serve, to preach, to save...to do something with his life, but he just couldn't quite figure it out." I hope none of us makes that mistake. Todays' scripture talks about the mother of James and John making a request to Jesus. Now, I believe all good mothers want the best for their children, and so her request doesn't seem to be that bad. She wants the highest places of honour for her boys. After all, they followed Jesus around for three years, faithfully doing what he asked of them. But Jesus' comeback tells her that the places of honour are not for those who do what they are told, or even for those who go beyond what they are told to achieve more in life. That place is actually for those who spend their lives serving others.
So far, in the last few weeks, we've talked about the purposes that God has for our lives, beginning with getting to know God through worship, to getting to know one another through fellowship, to becoming like Christ as we were designed. This week we are going to look at our fourth purpose – that is to serve God by serving others. The bible has a word for this – ministry. When I say the word minister, many people think of a priest or pastor, the person in the long robe who stands at the front of the church on Sunday mornings (when we can have services in the church on Sunday mornings). They think of someone who wears a strange collar or talks in a deep, resonant voice. But the bible says every believer is a minister. Ministry simply means using the abilities, background, experience, talent and gifts you have to help others.
The greatest thrill in this world for a Christian is to be used by God for something. That's why one of our purposes is serving – it is being used by God to better this world. And we serve God by serving as Jesus did. It takes three things to be able to serve like Jesus: 1) being available, 2) being grateful and 3) being faithful.
Let's look at the first – being available. One day Jesus was walking to Jericho and some blind men starting yelling to get his attention. (Matthew 20: 30-32) They shouted "Lord have mercy on us!" And Jesus stopped and called to them, "What do you want me to do for you?" Jesus took an action in this story. He stopped. Jesus was on his way somewhere and he was interrupted. Most of Jesus' ministry and Jesus' miracles were interruptions, things that stopped him. All the people he healed – the blind men, those that were lame, the sick, the paralyzed man let down through a roof, even the request to raise a child from the dead – all of them were interruptions from what he was already doing. His first miracle? Interrupted at a wedding when the hosts ran out of wine. In each case, Jesus was in the middle of something else when the needs of someone stopped him. Some people like to follow the steps of Jesus – I think it might be better to concentrate on the
stops
of Jesus. Proverbs 3: 28 says
"Never tell your neighbours to wait until tomorrow if you can help them now."
Servant-hearted people don't procrastinate. They are spontaneous, they are sensitive and they say "Okay, let's do it!"
Unfortunately in this world there are hurting people all around us and the wounded can't wait. So we have to be available now. But there are barriers that keep us from being available to others including a) self-centeredness, b) perfectionism and c) materialism.
We often think of self-centeredness as a bad thing and when it means everything we do centers solely around our desires and wishes, it is. But self-centeredness can also mean being so busy with what we are doing that we fail to see what needs there are around us. The number enemy of compassion is not apathy but busyness. We get so busy that we are not available to do what God wants us to do.
Like perfectionism isn't always bad. We want to do our best, especially for God, but perfectionism becomes a barrier to being available to serve when we rationalize our actions or inactions by saying "When everything settles down, I'll get to that." Or "When I have everything in place, I'll do it then." Ecclesiastes 11:4 says
"If you wait for perfect conditions, you'll never get anything done."
Christ-like servants don't wait, but rather do the best they can with what they've got. Sometimes we've made excellence an idol. And there is nothing wrong with excellence in and of itself. But I think when it comes to serving others, God would be just as happy with the "good enough" principle. That is, it doesn't have to be perfect for God to bless it. If God only used perfect people, what would get done in this world? Nothing, nada, zip.
And, of course materialism can be a barrier to our being available to serve. Jesus said "
No servant can serve two masters. You cannot serve both God and money."
(Luke 16:13). Jesus is saying that we have to decide what the number one priority in our life is. Materialism becomes a barrier to serving when we get so busy taking care of
things
that we have no time to take care of people. If God wants to give you wealth, that's great, but the accumulation of it is not to be the number one goal. No one has ever had a U-Haul attached to the back of the hearse because they could take their possessions with them.
So, our fourth purpose, serving like Jesus, means that first we have to be available and to do that we have to set aside or overcome the barriers of self-centeredness, perfectionism and materialism. Serving also means we have to be grateful. There is a story in the book of John of a friend of Jesus', Lazarus, who died. Jesus was called by Lazarus' sisters to go to the home, presumably for the funeral, but Jesus had a different idea in mind. He was going to perform a miracle – to raise his friend from the dead. Now, I'm not expecting that of you, though if God wants to work through you to do it, I'll be your biggest supporter. What we do learn from this story, however, is that Jesus could have walked up to the tomb and quietly prayed, and not said anything to anybody. Instead, he prayed out loud so that the people could hear his words.
"Jesus looked up and said, 'Father, I thank you that you hear me. I know that you always hear me, but I said this for the benefit of the people standing here."
(John 11: 41-42) "I want them to know that I am grateful that you heard me." Jesus had an attitude of gratefulness in everything he did. You might think "I'd be grateful too if I could raise the dead." However, remember that Jesus was grateful even during the most difficult times of this life and persecution. He was grateful to God when he was criticized. He was grateful even when things were not easy in his ministry.
Just as there are barriers to being available to serve, there are barriers to being grateful. Two in fact: a) indulging in the act of comparing and criticizing and b) having the wrong motivations. We are all God's servants, to as far as comparing ourselves to others and criticizing what they (or we) are doing, it's a matter of God's opinion of us not my opinion or your opinion of others, that counts. Competition in the service of God doesn't make sense – we're on the same team. We have the same goal. We are trying to make God look good in the world. As far as wrong motivation goes, serving in order to show off is wrong. Self-promotion and servanthood don't mix, but it is easy to get them mixed up. A lot of our service, if we are truly honest, can be self-serving at times. We serve to get others to like us. We serve to be admired. We serve to feel good about ourselves. We serve to achieve our goals. We serve as a sort of bargaining chip with God. These may all be consequences of serving but they are not to be our primary goals if we are indulging in the correct motivations. To truly fulfill the purpose of serving like Jesus, we have to do it with generous hearts.
Serving means being available, or allowing interruptions, and it means being grateful in all situations. It also means being faithful. Being faithful means we don't give up. We keep on going. We don't quit in the middle of our assignment. At the end of Jesus' ministry on earth, Jesus said this, "
I have brought you (God) glory on earth by completing the work that you gave me to do."
(John 17:4) You may retire from a job someday, but you never retire from ministry. Each of us has something that one author defined as our SHAPE. SHAPE stands for: S = spiritual gifts (preaching, teaching, hospitality, healing, compassion, welcoming, listening, leading, music, etc)
H = heart (our passions)
A = abilities (skills or talents)
P = personality
E = experiences
If we use all the elements of our SHAPE, we can be motivated and empowered to do whatever God needs us to do. God has given each of us a set of gifts, abilities, passions, personality, and experiences that makes us unique in God's family. No one else can replace us because no one else is exactly like us. We are to use these to faithfully serve God. And what we do for God here on earth really matters. Most of what we do in life will not matter in a week's time, let alone a year or ten years. But any time we serve in Jesus' name, no matter how small, it matters.
"Throw yourself into the work of the Lord, confident that nothing you do for God is a waste of time or effort."
(1 Corinthians 15: 58) In God's eyes, there is no
little
service.
One day you are going to stand before God and God is going to say to you, "What did you do with what I gave you, the talents, the abilities, the background, the experiences, the freedom,t he education, the family ties, the money? What did you do with your SHAPE?"